Zero Hero, the Bonebreaker, is a male character introduced in a trailer released along with the console release of the game.
He has a plaster cast on his left hand. The exact cause of his fracture is unknown, but it's very likely it's due to falling off a vehicle, since he mostly drives open-top vehicles. The flashback scene suggests it was caused by falling off a Lawn Mower, but in the scene he can be seen with a plaster cast already, so it might not be connected.
Motto
"
I'm not here to win, just to make sure you lose.
"
— Zero Hero, the Bonebreaker
"

"
— Zero Hero, the Bonebreaker
Trailer
Driven vehicles
Main
This character's main vehicle:
Side
This character is also seen driving:
In-game content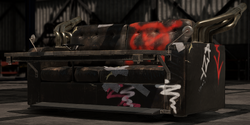 Real life vehicles
Real life vehicles used in the trailer:
Rivals
No rivals of this character are mentioned.
Promo pictures
Goofs & notes
In one shot Zero Hero can be seen taking a corner in the wrong direction.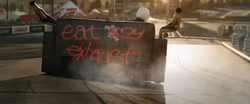 In one clip, a tire can be seen falling through the ground.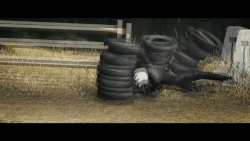 ↑

This paint style was never officially released.