Sheriff, the Crasher, is a female character introduced in a trailer released along with the console release of the game.
She started off with a plain blackish Warwagon, following with adding orange stripes on the rear end sides of the vehicle, and at the end with a full Sheriff setup.
Vehicle creation progression & in-game recreation:
Motto
"
Wreck by wreck. I'm coming for you.
"
— Sheriff, the Crasher
"

"
— Sheriff, the Crasher
Trailer
Driven vehicles
Main
This character's main vehicle:
Side
This character is also seen driving:
In-game content
Real life vehicles
Real life vehicles used in the trailer: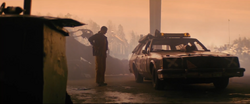 Behind the scenes
Rivals
In the trailer, a picture of Hammerhead with a target sign on it can be seen pinned in the middle of a dartboard. 4 darts are thrown at the picture.
In the trailer, 5 cups with names can be seen. These cups shortly after get smashed with a baseball bat, which indicates there is some rivalry between Sheriff, the Crasher, and those charaters. Not all of of the names can be fully seen.
Promo pictures
Goofs & notes
She is referred to as "The Sheriff" in other trailer.