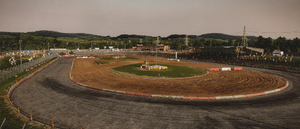 Kingston Raceway is a fields map featured in the game since the Tournament: Banger Racing update.
The traditional asphalt oval complete with a furious Figure 8 layout make this venue perfect for hard as nails banger racing and stock car racing.
– Wreckfest

It's inspired by the Arena Essex Raceway in Grays, England.
Tracks
Thumbnail
Name
Length
Surface
ID
File name

Asphalt Oval
443 m
100% Tarmac

fields12_1
fields12_1

Asphalt Oval Reverse
443 m
100% Tarmac

fields12_1_rev
fields12_1_rev

Figure 8
469 m
20% Dirt
80% Tarmac

fields12_2
fields12_2
Promo pictures